Anti-bolshevist action in Saligorsk dispersed
5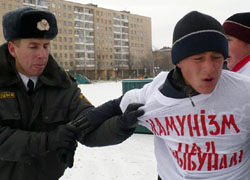 Belarus is the only country in the world where the anniversary of bloody October Revolution of 1917 is celebrated officially. Even Russia doesn't celebrate it any more. Moreover, the Belarusian authorities are protecting the communist ideals aggressively. On the central Saligorsk's square 7 November, when a delegation of the City Executive Committee was coming to the monument to Vladimir Lenin, 7 young people dressed themselves in shirts with the inscription "Communism must be judged", and unfurled the poster with such words. The militiamen run up to them at once.
The "Young Front" activists Ivan and Illia Shila and Krystina Samoilava were detained. The militiamen tied up the armes of Shilas brothers and made them lay on snow till the car drove up. They also damaged Ivan's nose.
But the young people, who hadn't been detained, went to the building of Saligorsk militia department, where they laid a barbed wire wreath with the inscription "To the victims of political repressions. 1917-1991. 1994-2007" to the monument to Felix Dzerzhinsky.
Meanwhile, the detained were guarded to the militia department, where they spent more than two hours. An investigation supervisor said Ivan Shila that an investigation against him was begun according to the article 363 of the Criminal Code "Resistance to militia workers", Nasha Niva reported.
It should be reminded that 4 September Ivan had trial on the criminal article for the participation in an unregistered organization. The court warned the guy.