Lukashenka reminded to release Kazulin (photo)
20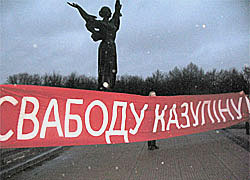 Actions demanding to release former candidate for presidency on Belarus, political prisoner Alyaksandr Kazulin, are held in Belarus almost every day. Banners, leaflets, graffiti "Freedom for Kazulin!" remind the authorities to release the political prisoner. A huge banner "Freedom for Kazulin!" could be seen near the stele in Minsk yesterday, by which Alyaksandr Lukashenka drives from his residence every day.
The EU and the US have declared that any dialog on normalisation relations with the official Minsk is impossible without release of all political prisoners. Human rights activists from the whole world are initiating nomination of Alyaksandr Kazulin for Andrei Sakharov Prize, established by the European Parliament. His candidature was supported by academician Sakharov's widow Elena Bonner.
Former presidential candidate Alyaksandr Kazulin was arrested on 25 March 2006 and sentenced to five and a half years in penal colony for organisation mass protest actions against rigging presidential election results. After 2 years wife of political prisoner Iryna Kazulina died from hard disease on 23 February, 2007. Pressed by the public, the authorities released Kazulin for three days to attend his wife's funeral. The politician came back to colony. The administration of the colony says the political prisoner wouldn't be amnestied.