Journalist Veranika Charkasava was murdered 5 years ago
6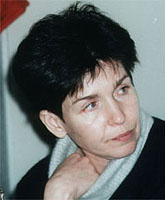 The case of Veranika Charkasava's murder is still suspended.
It has been informed to journalists at a briefing on October 19 by a spokesperson of the Belarusian Association of Journalists Volha Babak.
As said by Babak, she addressed the Prosecutor's Office of Minsk many times, and asked about the progress in the investigation of Charkasava's murder. "I was told on the phone that the prosecutor's office has moved into a new building, so nobody can give me any information or a phone number of the investigator. To receive information, one should come to the prosecutor's office personally and call the interoffice telephone," Babak is quoted by BelaPAN agency.
The representative of the BAJ did as she had been told. "I managed to talk to the investigator for particularly important cases of Minsk prosecutor's office Syarhei Ivanou, who is in charge of the case of our colleague's murder. He said that he cannot say anything new. The investigation was suspended on February 8, 2007, and hadn't been renewed since that time," the spokesperson said.
Veranika Charkasava was murdered on October 20, 2004. She was found dead in her own apartment in Minsk. 20 stab wounds were found on her body by experts. The journalist wrote on different topics, including crime, however the investigation from the very start considered that home murder was the main version. Her 15-year-old son and her stepfather were called suspects. In April 2005 they were cleared of suspicion.
Charkasava's colleagues believe that her murder was likely to be related to her professional activities. In particular, representatives of the creative workshop "Journalistic investigation agency" expressed a version to the BAJ that Charkasava could had been involved in the war between two clans for establishing a control over Homel winery. To their mind, the murdered journalist could have information, which publication could endanger one of the sides to lose a great sum of money.
Charkasava's colleagues had also a different version of the murder, involving the former "Infobank" (presently "Truskbank") and the topic of arms sales to Iraq under Saddam Hussein.