Are Belarusian authorities selling half of Beltransgaz before term?
32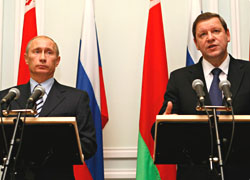 Economists think that the growing debts to Russia may make Lukashenka's regime to sell enterprises to Russia, including selling of the control stake of Beltransgaz.
According to Russian Kommersant daily, Alyaksandr Lukashenka and Dmitry Medvedev have agreed on advanced selling of Beltransgaz at the recent meeting. It should be reminded that Belarus agreed to sell 50% stake to Gazprom. Russia was to buy the last part of the stake only in 2010. Gazprom paid for other 12 per cent in January and increased his stake to 37.5 per cent.
Besides, Belarus owes Gazprom $70mln for the Russian gas it received in the last two months. The Belarusian government didn't notice that the prices had increased from $128 to $210 per 1,000 cubic meters this year.
As head of the Strategy Analytical Centre Leanid Zaika told Euramost.org, new gas prices for Belarus depended on Russian loans.
"I'm sure that the price of 210 dollars is a political price that is set up in this two-country region," Leanid Zaika thinks. "Timoshenko and Putin agreed that Ukraien would pay $230 per 1,000 cubic meters. 210 is a very pleasant figure here. It seems that everything is OK, like in Europe. In my view, the real prices for Belarus are lower. It consists of different agreements, different payments, deals, and so on. Besides, we should take into account that Russia sells us gas at 210 dollars and at the same time it gives us loans. It's like two neighbours are arranging about firewood buying. One of them says: "I'll sell you firewood at 100 rubles and give a loan of 200 rubles!" he gives money for the neighbour to pay him. We pay Russian money for Russian gas. As a result, our debt is growing. What will be in future, when the debt reaches 4, 5 or 6 billion? Then Belarusian property will be needed – our enterprises, family silver, and so on. That's why, if speaking about gas prices, I think they are not difficult for Belarus, economically, it remains 130–140 dollars."
Leanid Zaika calls early selling of 50% stake in Beltransgaz to Gazprom a deal, that had more of wickedness of the Belarusian authorities.
"This deals demonstrate wickedness and not very reputable game of the two parties," Leanid Zaika says. "Firstly, Russia sets the gas prices itself and calls it "European". But according to my calculations, market Russian gas price should be 55–75 dollars per 1,000 cubic meters. The fact that Russia set different prices for Europe, Ukraine, Estonia is economic postmodernity. "The equilibrium regional price" has never been discussed. Russia is a monopolist that gets resources from the neighbouring countries. 210 dollars is a very high price for Belarus. There are two ways out here. The first one is to entry the European area: join NATO, give written hopes for joining the European Union, give up a special role of relations with Russia. In this case Belarus will buy gas at the prices, establish by Russia, but will also fight against these prices together with Europe. The second variant is that the Belarusian authorities and elite, government, should just buy time, gaining some dollars. And everyone, all enterprises shouldn't compete, modernize the production, but should become addicted to gas. Gas drug is profitable only for the Belarusian political establishment, as it allows them to keep their power."