Russian Su-34 fighter in sky over Belarus (Photo)
38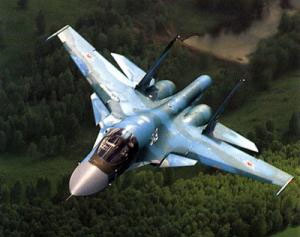 One of Russia's newest military aircrafts, fighter-bomber Su-34, is to take part in West 2009 strategic exercise.
It has been stated by deputy commander of Chkalov Russian Air Force's combat employment and retraining centre Colonel Yuri Sushkov. He noted that a group of Su-34 arrived to Belarus on September 16.
The first Su-34 aircraft was received by Russian Air Force in December 2006. In Lipetsk Training Centre this plane was used to train employment of new equipment and its ground maintenance technology, ITAR-TASS informs.
At present Belarus and Russia continue exercises in preparation for the defensive operation and conducting coordinated defensive operations, the BelaPAN was told by the joint press-centre of the exercise.
It has been also stated there that issues of coordinated control over military units and units of aviation, artillery, rocket, sustaining and other units.
As informed by Telegraph, main efforts of the Air Force and Air Defence Northwestern Tactical Operational Command are aimed at improvement of practical training of flight officers.