With which wife has Bakiyev arrived to Minsk?
43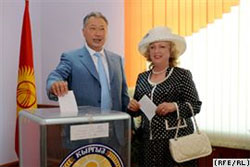 Kurmanbek Bakiyev, the ousted dictator of Kyrgyzstan, has two inofficial wives beside the official one, and children with them.
Answering questions of "deputies" of the "national assembly" on April 20, Alyaksandr Lukashenka said that since Monday the ousted presdent of Kyrgyzstan Kurmanbek Bakiyev and family are in Belarus. He mentioned 5-year-old son and 9-year-old daughter of Bakiyev.
However officially Bakiyev has only one wife, Tatyana Bakiyeva, who was born in Samara and is a production engineer by education. They have 2 grown-up sons, one of whom Bakiyev was believed to be preparing as his successor.
Where could the children mentionaed by Lukashenka come from?
According to Kyrgyz workers of "Radio Liberty", rumours about Bakiyev's other family apperaed long ago, but in early March it became an issue of rpublic discussion for the first time. In March the former State Property Minister Ravshan Dzhaimbekov who lives in the US now, addressed Bakiyev with an open letter, calling upn the president not to violate moral standards. It was stated in the letter that beside the official wife, Bakiyev had two inofficial ones.
The party "Erkindik Kyrgyzstan" states that the provisional government has given "guarantees of inviolability to the president, his minor children and wifes".
Vice President of Kyrgyzstan in the provisional government Azenbek Bagnazarov stated at a press-conference that Bakiyev has fled the country "with his third, inofficial wife".