Karetnikau given 10 days in custody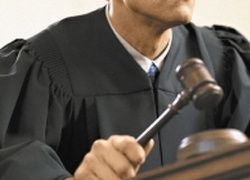 The court of the Savetski district of Minsk sentenced Yury Karetnikau, the leader of Right Alliance organization, to ten days in custody.
BelaPAN news agency has learnt this from human rights activist Anastasia Loika.
According to her, the court found Karetnikau guilty in disorderly conduct.
We remind that Karetnikau phoned his relative at 5:00 pm on October 30 and said he had been detained by police. He was accused of disorderly conduct.
Yury Karetnikau was an election agent for presidential candidates Ryhor Kastusyou and Vital Rymasheuski. He also was a member of presidential candidate Uladzimir Nyaklyaeu's team responsible for security. He left for Ukraine after December 19, 2010, and together with Belarusian opposition activist Vyachaslau Siuchyk founded Belarusian Centre NGO. Karetnikau returned to Belarus on October 26, 2011.