Belarusian nuclear power plant safer than Japanese one. Syamashka guarantees that
75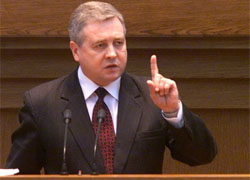 Minsk won't change its plans to construct a nuclear power plant in Belarus in connection with the nuclear catastrophe in Belarus.
"Having adopted a decision to build a nuclear power plant in Belarus, we have taken into consideration all the security issues. When choosing the platform, we proceeded from the seismicity of at least 8.0-magnitude," First Vice Prime Minister of the Belarusian government Uladzimir Syamashka stated on Monday, ITAR-TASS informs.
As said by him, the nuclear reactor of the future NPP is among the safest ones. "Not many countries have such reactors," he said. As said by Vice Prime Minister, issues of environmental impact have been considered in the technical and economic substantiation of the NPP construction project.
"The project has undergone examination by experts in a number of neighbouring countries. All comments which had been made have been taken into account," Syamashka said. He also noted that at the session of the Council of Ministers of the so-called "union state" scheduled for Tuesday, it is planned to sign a number of Belarusian-Russian agreements on the NPP construction in Belarus.
It is planned to put the first unit block of the NPP in operation in 2017. A Russian company Atomstrojexport is a primary contractor. The nuclear power plant is to be constructed on at Astravets (Ostrovets) site in Hrodna region.