KGB releases film about Mikhalevich (Video)
188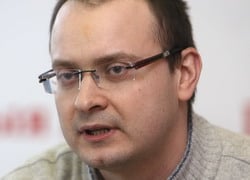 At a press-conference in Minsk on Monday the Prosecutor General's Office leadership demonstrated films to journalists.
Evidently, the demonstration of secret filming was to convince the media that sadists do not work in the KGB remand prison.
In the footage Ales Mikhalevich assured the investigator that he is loyal to the regime and that he would be a strong ally for the KGB. "I am sure I could be helpful in something potentially. I am ready to help. I am a man who had not deceived anyone and cheated anyone so far. You can count on me," Mikhalevich said.
The presidential candidate suggested he could "be finished with politics". "I can suspend or stop my political activities at all altogether. As you would recommend… I can come in contact with some people and meet with them… It depends on what is better for you," A. Mikhalevich said.
After the investigator left the office, the secret filming continued, and A. Mikhalevich looked self-satisfied and was even painting something on the glass, the pro-regime news agency Interfax-Zapad was savouring the details.
We remind that today the Prosecutor General's Office has refused to start case upon Mikhalevich's claim about tortures in the KGB remand prison. "The KGB remand prison staff was questioned, as well as his cellmates, the cells were investigate," the deputy Prosecutor General of Belarus Andrei Shved specified.
Ales Mikhalevich is a suspect in the case related to the events of December 19, 2010. On February 19 he was released from the KGB remand prison on recognizance. After that Mikhalevich made a statement about tortures in the KGB jail, and also said that he withdraws from cooperation with the KGB. He had been forced to sign an agreement on cooperation before leaving the remand prison.
On March 14 Mikhalevich wrote in his blog that he was "out of the reach of the Belarus' KGB."