Political prisoner's sister detained and beaten in police department
98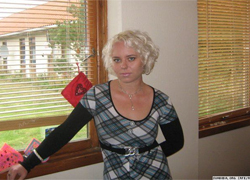 As informed by Volha Klaskouskaya, on May 5 in the night policemen dragged her, barefoot and handcuffed, out of her flat in Rakasouski Street, where she lives with her child and mother, and insulting her, took her in the police department of Leninski district in a minivan.
Klaskouskaya does not know what the reason of her taking to the police department was. As said by the woman, insults continued in the police department, she was beaten, mostly on the head from behind, an then she was placed into a cell with male detainees, BelaPAN informs.
Volha Klaskouskaya, a sister of one of the persons involved in the December 19 mass riots case Alyaksandr Klaskouski, will file a complaint to the prosecutor's office about beating in the police department of Leninski district of Minsk.
Then Klaskouskaya was taken to Lenin Street, supposedly to the city police department, where in the morning she was pressurized by some ensign Syarhei to sign two reports: one about a fight with policemen and another about insulting the president. Klaskouskaya refused to sign the papers. As said by her, when she was released, the ensign warned that she should be expecting a trial, and he told to her mother who came to take Volha home from the police department that she might never see her child again if she is going to continue behaving in the same way.
Now Volha Klaskouskaya is at home. As said by her, her right arm can hardy move after the time in handcuffs. The woman plans to be examined by medical experts for injuries to be recorded, and to apply against the actions of the policemen to the prosecutor's office. She has also informed human rights activists about the events.