Zhirinovsky offers Belarus and Ukraine to become Russia's districts
154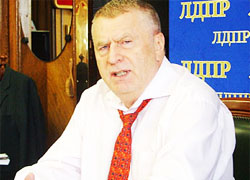 Vladimir Zhirinovsky, Vice-Chairman of the State Duma of Russia, offers former republics of the Soviet Union a format of a single state.
"Join the Russian Federation as federal districts," the draft resolution of the pre-election party congress of the Liberal Democratic Party of Russia reads, Interfax-Zapad reports.
The draft resolution explains that Belarus could be transformed into the 9th Minsk Federal District, Ukraine – into 2 federal districts, Kyiv and Odessa ones. "So there will be 11 districts in total. South Caucasus – the 12th district, Kazakhstan and Central Asia will be 2 more districts."
Addressing the congress, V. Zhirinovsky said that Russia is "a hermaphrodite state", not entirely democratic and not entirely free.
"Our democracy, economy and the state itself cannot park with the form of a hermaphrodite, that is, it is something in-between," V. Zhirinovsky said at the LDPR congress in Moscow.
As said by him, in today's Russia they have "neither private property, nor public, neither freedom, nor serfdom," he said, adding that hermaphrodites cannot produce offspring and thus have no future.
"We cannot overcome absence of freedom completely, and cannot get complete liberty," V. Zhirinovsky believes.
The topic of hermaphroditism was continued in the resolution. The draft resolution stresses that "we have created a commonwealth in the form of a hermaphrodite again." Such structures as the CIS, the CSTO and EurAsEc are meant, the document explains.
"An attempt to develop the CIS, and the CSTO inside of it, with the EurAsEc inside of it, with the Customs Union, a separate Union State of Russia and Belarus – this cocktail would not have positive results," the LDPR believes.