Lithuania expands blacklist of Belarusian officials
18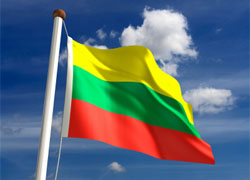 Vilnius intends to add 18 Belarusian officials to those banned from entering Lithuania.
These officials have relation to persecution of Belarusian Viasna Human Rights Centre and its leaders, the Lithuanian MFA reported Wednesday.
Names and posts of the civil servants are not given, but they are "associated with the persecution of the Belarusian Human Rights Centre Viasna and its leaders", the MFA notes. The MFA filed this request to the Migration Department in accordance with the acting legislation.
The Ministry informs that Lithuania has already called on other EU member states to consider a possibility of adding these Belarusian officials to their national lists of persons declared persona non grata in their countries.
The EU has already imposed travel ban on 200 Belarusian top officials due to crackdown on the opposition conducted by official Minsk.
The head of Viasna Human Rights Centre was arrested in August on the ground of the data revealed to the Belarusian law enforcement agencies by Poland and Lithuania under legal assistance agreements. He was officially charged with tax evasion on an especially large scale (part 2 of article 243 of the Criminal Code of Belarus).
The Viasna leader is in the detention facility Nr 1 in Minsk facing 7 years in prison.