Statkevich sent to punishment cell for wrong clothes
7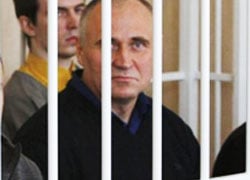 Mikalai Statkevich has been thrown into a punishment cell in Mahilyou prison No. 4 for violating the rules of wearing clothes in penal colony No. 17 in Shklou.
Journalists have learned this from politician's wife Maryna Adamovich, who was told the information by the prison authorities.
On January 17, Statkevich's wife Maryna Adamovich and his lawyer Syarhei Novik vicited prison No. 4 in Mahiloyou. Maryna Adamovich met with prison chief Alyaksandr Lamaza. Syarhei Novik talked to the political prisoner.
According to the lawyer, Mikalai Statkevich will remain in the punishment cell until January 24. Then he will be sent to one of the normal cells. "He is okay. He is cheerful and vigorous, sends greetings to everyone and hugs his wife. He will say more as soon as he has an opportunity," BelaPAN quotes the lawyer.