Dunja Mijatović: Internet supports democratic processes
5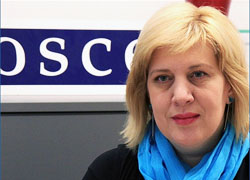 Online and traditional media alike must remain free forums for public debate.
OSCE Representative on Freedom of the Media Dunja Mijatović said about it opening the 9th annual South Caucasus Media Conference in Tbilisi today.
Journalists and civil society representatives from Armenia, Azerbaijan and Georgia taking part in the conference titled "From traditional to online media: best practices and perspectives" will look at international standards and national practices regarding freedom of the media in social media and online broadcast regulation.
"The fundamental human right to freedom of expression and freedom of the media is not only reserved for traditional media, but also covers social media and other forms of new media," Mijatović said.
"I constantly urge the governments of all OSCE participating States to foster and not to restrict media freedom both on-line and off-line. Online media can promote diversity and pluralism of opinions and voices. They also support democratic processes and development by providing a direct link between governments and citizens."
The conference participants will also discuss current issues relating to media freedom in the region.