Palats band jubilee concert banned
19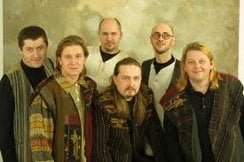 A concert of Palats ethnic group in the Republican Belarusian Drama Theatre on occasion of the 20th anniversary of the band has been cancelled.
Organizers have to refund ticket money to spectators, who bought all tickets two weeks before the event. The official reason is "organizational problems due to circumstances beyond control of the theatre administration and musicians that made holding the concert impossible," tuzin.fm reports.
Palats musicians, who prepared a special programme "Songs of Love and Wisdom" for the concert on October 26, are puzzled. The event was very important for them. It was band's 20th  anniversary, so all people who ever had relation to the group were invited to the show. Secondly, musicians planned to present two new releases, a musical parable "Soldier-Doctor" and a new studio album "Kola Hrukatala".
There is no information about the cancellation besides the official reason. The only things the theatre administration could to was to apologize to spectators. Band frontman Aleh Khamenka says: "My co-workers and I wouldn't like to comment.. We have nothing to apologize for. Let's not comment on this situation."
All who bought tickets can receive back their money in theatre ticket offices.