Drama theatre director: I misunderstood the call
13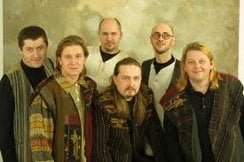 Palats band's concert on occasion of the 20th anniversary of the group will finally be held in the Belarusian Drama Theatre on October 26.
Radio Svaboda learnt this from theatre director Ihar Sihau. It was a misunderstanding, he explains. He received a telephone call, which he understood in a wrong way. The problem is solved already and the concert will be held.
The theatre ticket offices inform there are some tickets left. Palats band will present a new musical parable "Soldier-Doctor" and a new studio album "Kola Hrukatala".
There was information on October 23 that Palats's concert was cancelled. The official reason was "organizational problems due to circumstances beyond control of the theatre administration and musicians that made it impossible to hold the concert".