BAJ at gunpoint of Belarusian TV
72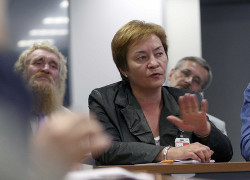 The recent episode of the propaganda programme "V Tsentre Vnimania" (In highlight) was dedicated to the Belarusian Association of Journalists (BAJ).
The report was aimed at discrediting the leadership of the organization. It's not a coincidence that such materials appear on Belarusian state-run TV channels.
The report was obviously prepared with the help of the KGB. Hidden camera footage and other techniques in the spirit of Beating Glass with Iron documentary were demonstrated. Such programmes were usually followed by raids on NGOs (like Viasna human rights centre) and website offices in recent years. Human rights activist Ales Byalyatski was also poured with mud on BT channel, "Nasha Niva" reports.
"V Tsentre Vnimania" calls itself an "analytical" programme, though it is ordinary propaganda. The programme gives the floor only to supporters of Lukashenka taking opponents' words out of the context and distorting their quotes.
The Belarusian Association of Journalists (BAJ) is an umbrella organization for independent reporters. It performs functions of a trade union protecting and helping journalists. Elimination of the BAJ would be a strong blow on the Belarusian society, which already lives in servile dependence from the authorities and their whims.
Zhanna Litvina, the chairperson of the Belarusian Association of Journalists, commented on the report shown on BT channel.
"We can notice a logical chain here. The political opposition were the first to face the strongest wave of discrediting. Human rights activists were the second to meet this wave. Not it's turn for independent journalists and the BAJ. It resulted in large-scale crackdown on the organization.
The BAJ is the only Belarusian organization that is a member of the International Federation of Journalists. Protecting our political rights, we protect the rights of our citizens to receive information, which is vital in the current situation of social stress in the society.
They want to force journalists to shut up ahead of another electoral campaign.
It seems the people who ordered this video material want the management of the organization to begin the process of self-destruction. After that, they will feel free to start other actions.
I used to work for the State TV and Radio Company (radio station "Belarusian Youth") and I remember the times when journalists of the Belarusian TV and Radio Company often received international awards for professionalism. After the yesterday's "programme of the week", it became absolutely clear for me journalism as a profession disappeared from BT channel.