Viva Bel@rus film to be shown in Cannes
3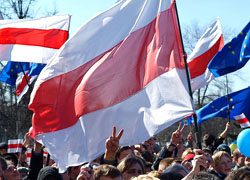 A film by Polish director Krzysztof Lukaszewicz Viva Bel@rus (Zyvie Biel@rus) will be shown at the film market at the Cannes Film Festival.
The movie tells the story of young Belarusian opposition activists. Information about the Polish film appeared in press in November 2011. Young Belarusian opposition activist Franak Vyachorka is said to be a prototype of film's main character and movie is based on his army diary, Nasha Niva newspaper writes.
Authors position the work as the first Belarusian-language  film at the Cannes Film Festival. Belarusian rap singer Vinsent (Dzmitry Papko) plays the main role; the main female role was given to famous Polish actress Karolina Gruszka. Film director Krzysztof Lukaszewicz is known for his work over the recent film 1920 Battle of Warsaw, which had great success among audience.
The film budget is 1.9m dollars with a part of it received from French Canal+.
The movie will be shown  in Cannes twice:
22 May, RIVIERA 4, 13:30,
23 May, PALAIS B,  11:30.