Frolicking junta (Photo)
57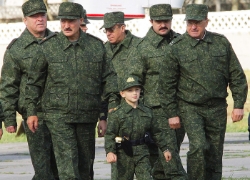 Bloggers give a title to a photo depicting Lukashenka, his son Kolya and high-ranking officials.
Mikalai Khalezin, the Free Theatre director, announced a completion on his blog for the best name of the photo, which became very popular on the Internet. Here are some variants:
nickmak:
"Arms are the best present for a child" (c) Lukashenka.
pgrigas:
My variant is "Chief's years of youth". Another one is "A boy with a golden gun". What else? Something like "Back to the future" or "The future is backward". "Lukashenka-style Zarnitsa" [Zarnitsa is a Soviet war game); "You've chosen the right path, comrades!" ("The road to nowhere"); "Let me rule forever", etc.
crazyhamster:
Junta.
vykelich:
Frolicking junta.
vlevkov:
"Don't shoot! There are children among us!"
(Anonymous):
Paraphrasing Tsoi's words – Aluminum balls on the tarpaulin field
(Anonymous):
"Two dumbheads are strong, but seven dubheads are stronger!"