Filip Kaczmarek replaces Protasiewicz in European Parliament
2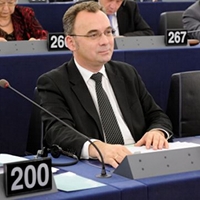 Poland's Filip Kaczmarek, 45, has been elected new head of the EP delegation for relations with Belarus.
He replaced his countryman Jacek Protasiewicz on the post, BelaPAN news agency reports.
Kaczmarek saidafter his election on June 5 he would continue his predecessor's political course. He called the relations with Belarus very difficult. "Political cooperation between the EU and Belarus was significantly limited after the presidential elections and is based on working contacts between experts," PAP news agency quotes the new delegation head. "Our aim for the nearest months will be supporting the democratic civil society, including organizations and independent media, amid the deteriorating situation."
At the first meeting with Kaczmarek as the delegation head, a statement calling to nominate jailed Belarusian human rights activist Ales Byalyatski for the Nobel Peace Prize was adopted.
Kaczmarek was born in Poznan. He is a member of the Polish Civil Platform party. He has been a member of the European Parliament since 2004 belonging to the Group of the European People's Party. He is a member the EPP Bureau.