Sannikov and Bandarenka meet with EU ambassadors
10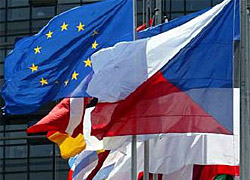 Andrei Sannikov and Zmitser Bandarenka met with ambassadors of the European Union.
Former presidential candidate Andrei Sannikov and one of his election team heads, Zmitser Bandarneka, were invited to a traditional meeting of EU ambassadors on June 5. The current situation in Belarus, forthcoming "election" and the state of political prisoners in detention facilities were discussed at the meeting. The former political prisoners thanked the ambassadors and the governments of their states for the solidarity they felt in prison.
Sannikov and Bandarenka emphasized the necessity of applying best efforts for the early release of political prisoners.
"We stressed the situation in Belarus would not change for better if free elections under international control were not held," Andrei Sannikov told charter97.org.
The ambassadors confirmed Europe saw Belarus's future in the European family and didn't doubt its independence.