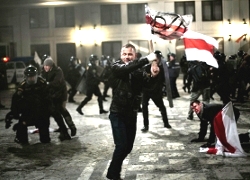 A movie about the Belarusian resistance movement was at last shot.
A private unofficial viewing of Viva Belarus! film took place in Warsaw on July 23.
Viva Belarus! was shot in November-December 2011 in Poland. A trailer for the movie was presented at the Berlin Film Festival in spring 2012 and the premiere was shown at the Cannes Festival.
The movie was directed by Krzysztow Lukaszewicz (Poland). The script was written by Belarusian journalist and activist Franak Vyachorka and Krzysztow Lukaszewicz.
Belarusian musician Dzmitry (Vincent) Papko played the leading role of rock musician Miron Zakharka. The film is based on real events and real stories of many Belarusians who suffered and continue to suffer from repression in Belarus.
The charter97.org website asked guests of the event to share their views about the movie:
Zmitser Bandarenka, a coordinator of European Belarus civil campaign and former political prisoner:
"The film deserves a title 'the first' for many reasons. It is the first film about Belarus, the first film in Belarusian and the first film about the Belarusian resistance. Fighting for freedom and independence has become the sense of life for hundreds of thousands of Belarusians. The main theme of our life has not been shown in movies before. Any film is not perfect, but the army, prisons and the post-election rally are shown truly. It's very important that the film will be released now, amid active discussions on further actions in the Belarusian society."
Natallia Radzina, editor-in-chief of charter97.org website:
"The film blows my mind and shocks even me, who went through the KGB jail in Belarus. It is made professionally with professional directing, talented actors, high quality sound and the soundtracks that I believe will become hits. Every Belarusian, especially the youth, should watch Viva Belarus! To nderstand: it's time to act and change our life right now. I hope many officers of the KGB, the Ministry of Internal Affairs and the Ministry of Defence, officers involved in persecution and elimination of dissidents will watch it. They will understand after watching it: nothing can be forgotten, everything is recorded and they will have to answer for everything. In fact, they are vampires who fight against everything alive.
Dzmitry (Vincent) Papko, a musician and leading actor in the film:
"It was a rather difficult mental and physical work. It was hard mentally, because I lived the role with all aspects of psychological drama. Sometimes it was hard to shake off this certain state, but I did it. Physically, because we worked 24 hours a day with short breaks for sleeping. We managed to do this because we understood we were doing great work for our common idea. We needed great concentration and efforts to make this film, but we achieved this noteworthy result due to professional skills of our team."
Franak Vyachorka, a scriptwriter:
Viva Belarus! movie is a reflection of the Belarusian reality. It is cruel, sometimes absurd, funny, unfair. It raises a range of problems: the generation gap between the Soviet and the young independent generations, bilingualism, banned musicians and blacklists, torture in the KGB jail, love on barricades (Dashkevich and Palazhanka), out-of-date and funny army (including air defence forces unable to detect a Swedish plane with teddy bears). This is a Belarusian film made jointly by Belarusians and Poles with participation of the best Belarusian actors. The film is oriented on western viewers, but Belarusians can find something interesting for them too."
P.S. The Internet premiere of the film, also on charter97.org website, is scheduled for autumn.