OSCE PA puts Belarusian dictator in his place
26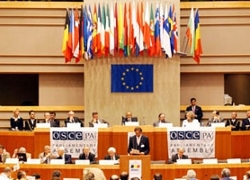 The Assembly has no plans to change the head of the observation mission.
Matteo Mecacci, the Chair of the Human Rights Committee at the OSCE Parliamentary Assembly, is the right person to head the observation mission in Belarus, OSCE PA spokesman Neil Simon comments on today's remark by Alyaksandr Lukashenka, BelaPAN news agency reports.
At a meeting with Russian Foreign Minister Sergei Lavrov in Minsk on August 15, Lukashenka expressed his discontent with a possible appointment of Mecacci head of the OSCE PA observation mission. "I think they might have found a person more knowledgeable about Belarus and the situation in the Republic of Belarus. We are now closely studying all these positions and naturally will give an adequate response," Lukashenka said.
Neil Simon said Matteo Mecacci had been keeping a close eye on the situation in Belarus and he was the right person to lead the observation mission and convey a position of the OSCE PA on the parliamentary elections in Belarus.
He added Matteo Mecacci had been appointed on proposal of OSCE PA President Riccardo Migliori.
Information that the OSCE PA observation mission to Belarus would be headed by Matteo Micacci (Italy) appeared a month ago.
On July 20, the press service of the OSCE PA release a statement by Mecacci: "We come into this election observation with an open mind and outstretched hand to our friends in Belarus," he said. "It is our hope that we witness marked improvement from the last election and that all people, including some now under house arrest or in prison, will be allowed to participate in the parliamentary election without intimidation or restrictions."
Matteo Mecacci criticized official Minsk on several occasions. At the Human Dimension Implementation Meeting in Warsaw in September 2011, he called on the Belarusian authorities to release prisoners of conscience. Mecacci pointed at numerous human rights problems in Belarus including freedom of press, freedom of assembly, free elections and death penalty.
OSCE observers are expected to arrive in Minsk on August 21.