Basharymau's mother: "Son has to apply much effort to put everything in order"
4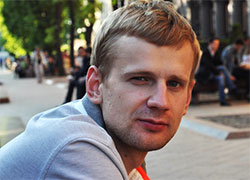 Estate agent Syarhei Basharymau tries to rest and set his business in order.
He prefers not to talk to journalists. Salidarnast asked the mother of the former prisoner about his plans for the future.
"Syarhei was resting and trying to come to his senses this weekend," Lyudmila Basharymava, the mother of the estate agent, says. "He has not recovered his phone number and uses his friend's cell phone. I talk to him every day. I am in Homel with my daughter's little daughter now."
Lyudmila says her son has not decided yet if he will talk to journalists.
"Syarhei does not like publicity especially in this situation. The case is not closed. He will consult with his lawyer."
She added Syarhei plans to put his business in order:
"He was responsible for advertising and documents. He has to apply much effort to set everything in order."
The mother of the former prisoner is happy her son was released, but says she still worries.
"It's easier now that it was while Syarhei was in custody. But I still feel stressed. My son cannot leave the town, the case is not closed, lawyers cost a lot unfortunately," she summed up.