Credit Suisse: Belarsuians are the poorest nation of Europe
61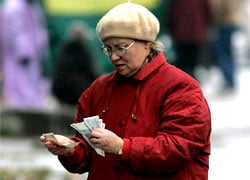 Belarus was ranked by Credit Suisse among the poorest countries.
Belarus is in the group of countries with the lowest level of wealth per capita, according to the Credit Suisse Global Wealth Report 2013.
The average level of wealth per capita is below $5,000 in Belarus. The same wealth level can be observed in many of African countries and some countries of Latin America. Most of CIS countries belong to the group with the level of wealth from 5,000 to 25,000 dollars.
Poland is the wealthiest country among our neighbours. Credit Suisse analysts estimated incomes of Poles at $25,000-$100,000. According to the survey, which measures the value of financial assets plus real assets (principally housing) minus debts, the wealthiest country is Switzerland with the average wealth exceeding $500,000 per adult.
The top 10 wealthiest countries are Australia, Norway, Luxembourg, the USA, Sweden, France, Singapore, Belgium and Denmark with the wealth level from $250,000 to $400,000.