Five companies of oligarch Peftiev removed from EU blacklist
40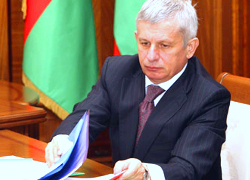 The number of Belarusian companies subject to the EU sanctions has been reduced to 25.
Thirteen persons were removed from the blacklist.
The list of Belarusian officials, oligarchs and entities subject to the extended sanctions of the European Union has been published this morning.
The new list doesn't include five companies of oligarch Vladimir Peftiev: LLC Delovaya Set, CJSC Sistema investicii i inovacii, PUC Sen-Ko, PUC BT Invest and Tekhnosoyuzpribor. Earlier, in May 2013, sanctions were lifted from Aquadiv distillery and Sport Pari company owned by Peftiev. His Beltechexport, BT Telecommunications and Beltech Holding remain on the list.
Sanctions are applied to 18 companies of oligarch Yury Chizh: LLC Triple, JLLC Neftekhimtrading, CJSC Askargoterminal, LLC Triple Metal Trade, JSC Berezovsky KSI, JV LLC Triple-Techno, JLLC Variant, JLLC Triple-Dekor, JCJSC QuartzMelProm, JCJSC Altersolutions, JCJSC Prostoremarket, JLLC AquaTriple, LLC Rakowski browar, MSSFC Logoysk, Triple-Agro ACC, CJCS Dinamo-Minsk, JLLC Triplepharm, LLC Triple-Veles. Three companies of oligarch Anatoly Ternavsky (Univest-M and its subsidiaries FLLC Unis Oil, JLLC UnivestStroyInvest) also remain on the blacklist.
Sanctions were lifted from Aliaksandr Dranitsa (military prosecutor), Anatol Dudkin (prosecutor of transport issues), Volha Komar (former judge of Minsk's Frunzenski district court), Mikalai Kulik (former prosecutor), Mikalai Kupryianau (former deputy prosecutor), Uladzimir Kurlovich (former chairman of the Minsk regional election commission), Leanid Luchyna (former chairman of the Hrodna regional election commission), Mikalai Miatselitsa (former chairman of the Mahilou regional election commission), Uladzimir Mikhasiou (former chairman of the Homel regional election commission), Nadzeya Ravutskaia, (judge of Minsk's Maskouski district court), Uladzimir Rusakevich (former minister of information) an Yauheny Smirnou (former first deputy chairman of the Supreme Economic Court).
Two persons were added to the blacklist – head of correctional colony No. 2 in Babruisk Aliaksandr Kakunin and deputy head Yury Trutko.
The European Union yesterday extended sanctions against official Minsk for a year. The list of officials and companies subject to the restrictive measures has changed. It now contains 232 persons close to the Belarusian dictator and 25 entities. It earlier included 30 companies and 242 officials and oligarchs.