Lukashenka prepares a new «referendum»
171
20.11.2013, 12:52

114,263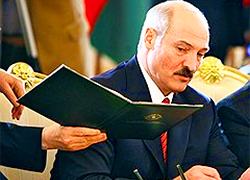 (updated - 14:54) The Constitution of Belarus will be changed.
The concept of reforming the judiciary, approved on 19 November at a meeting chaired by Lukashenka, will require changes to Belarus' main law. The dictator ordered to develop the respective documents in two days.
It was the deputy head of Lukashenka's administration Valer Mitskievich, who reported of the planned judiciary reformed.
In particular, according to him, the merger of general and commercial court into a single system of courts of general jurisdiction "is possible without prior re-writing the Constitution, but will require a subsequent change in the form of eliminating the mention of the Supreme Commercial Court".
"In the meanwhile, the chapter of the main law with a number of articles to be changed may be only re-written by the means of a referendum", - the ruler's press-service quotes the official.
Mitskievich noted that with the merger of general and commercial courts into a single system of court of general jurisdiction a highest judicial body will be created for dealing with civil, criminal, administrative and economic cases – the Supreme Court which will merge with the Supreme Commercial Court.
"This will allow to unify the judicial practice, ensure the uniform reading and implementation of laws by all courts, facilitate the use of judiciary for citizens and organizations, eliminate the possibility of rejections of relief at law due to the wrong competency of this or that court", - Mitskievich claimed.
At the same time commercial courts in regions are suggested to be kept as the courts of the respective specialization, having renamed them as economic courts. They will comprise the whole domain of economic relations. Apart from that other issues related to the merger get solved, in particular the composition of a panel of judges on economic cases in the Supreme Court, which will be chaired by the deputy chairman of the Supreme Court; the extension of the plenum and panel of the Supreme Court with the consideration of empowering them with credentials to consider economic cases; the creation of common bodies of judicial community, including a qualified panel of judges, who will combine the credentials of today's separate qualification panels of general and commercial courts.
The suggested merger mechanism, in the official's opinion, will also allow to "provide for the cohesion of the approaches to the creation of judicial systems with other member-states of the Customs Union and the Single Economic Space".
The dictator ordered to present him with the draft laws and decree before 1 December.
We would remind that the Constitution of Belarus has already been changed several times by "referendums". This took place in 1995, 1996 and 2004. The changes concerned the official state languages, symbols, president's powers. The latest referendum cancelled the limit on terms in office for a president. Opposition and international organizations deem all the referendums held in Belarus after 1994 rigged and do to recognize their results.
Photo: Kommersant