Slutsk activist fined for screening ONT film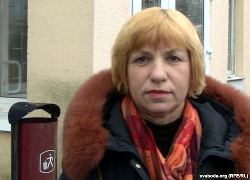 The Slutsk district court issued a fine of 2,600,000 rubles to Zinaida Tsimoshak.
She was accused of "violating the rules of organising a meeting", Radio Svaboda reports.
Tsimoshak tried to show the documentary "40 Day of Peasants' Republic" about the Slutsk Uprising in the culture centre in the village of Kaslovichy on November 23. The screening was timed to the anniversary of the 1920 uprising in the Slutsk district. Historian Nina Stuzhynskaya, a co-author of the documentary, took part in the event. The local police stopped the screening, detained and questioned people. The police presented charges against the organisers of the event.
Aliaksandr Tumilovich, the head of Kaslovichy's culture centre, quit in protest.
"It was a documentary about the Slutsk Uprising with comments from a historian. It was earlier shown on ONT channel. I agreed to screen it and offered a small room for 25-30 people. My duties include organising meetings with interesting people. I didn't find the film seditious. It was earlier shown on the state-owned TV channel. I wasn't able to contact my bosses at that moment, so I took personal responsibility for permitting the screening. They arrived on November 23, I got acquainted with Zinaida Tsimiashak and Nina Stuzhynskaya. People came to watch the film. The police appeared a few minutes later," Aliaksandr Tumilovich said at the trial.
Judge Sviatlana Pastukhova ignored the witness's evidence and found Zinaida Tsimoshak guilty.