UN Council to discuss situation in Belarus
39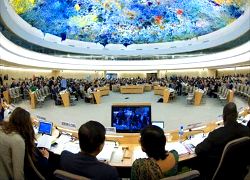 The EU proposes to address the Belarusian issue at the UN Human Rights Council session.
"A key EU priority for the 23rd session of the HRC in June will be the situation of human rights in Belarus which continues to give rise to grave concern," the Council conclusions on the regular UN Human Rights Council session reads.
The document, which was adopted by the EU foreign ministers in Brussels on Monday, reads that the European Union's priority at the forthcoming session will be the grave human rights situation in Syria. The EU will insist on the need for accountability and preventing impunity for the serious human rights violations and abuses in Syria.
The Council also draws attention of the UN Human Rights Council to to the persistent critical human rights situation in the Democratic Peoples' Republic of Korea. Together with Japan, the EU will propose the creation of an independent inquiry mechanism in support of the Special
Rapporteur, Interfax news agency reports.
The EU will actively support the extension of the mandate of the UN Special Rapporteur on the Islamic Republic of Iran who should urgently be granted access to the country.
The Council's conclusions stress the importance of addressing key human rights concerns in Sri Lanka, Mali, Myanmar, the Democratic Republic of the Congo, Eritrea, Sudan and South Sudan.