Political prisoner Frantskevich thrown into punishment cell
5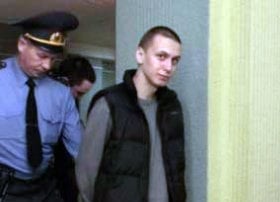 Alyaksandr Frantskevich has been placed in a punishment cell again.
Charter97.org learnt it from Tatyana Frantskevich, the mother of the imprisoned anarchist. According to her, Alyaksandr Frantskevich was transferred to the punishment cell for 10 days. She says she does not know the reasons.
"A lawyer is going to visit him this week and figure out details. He will possibly say the details of the incident after the visit. It is another wave of pressure on political prisoners. They refuse to apply for a pardon, so Lukashenka tries to break their spirit, moral stamina and will," the political prisoner's mother said.
Alyaksandr Frantskevich was sentenced to three years in the "anarchist case" in May 2011. He was accused of carrying out a number of attacks on administrative buildings and hacking the website of the Navapolatsk city executive committee. He didn't admit his guilt at the trial. Human rights activist recognise Frantskevich political prisoner and demand to release him immediately.