Andrei Sannikov: Belarus needs Poland's solidarity
16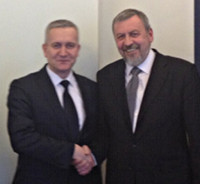 Leader of the European Belarus met with representatives of the Polish government and parliament.
On March 7, former presidential candidate, leader of the European Belarus Andrei Sannikov, co-director of the Belarusian House Dzmitry Barodka and editor-in-chief of the website charter97.org Natallia Radzina met with deputy chairperson on the Foreign Affairs Commission, leader of the Belarusian group of the Polish Sejm Robert Tyszkiewicz and members of the group, and with deputy chairperson of the Right and Justice party Adam Lipinski.
During the meetings, the parties discussed the situation in Belarus, Poland's politics regarding our country and the EU's politics regarding the Belarusian issue in general. The members of the Polish parliament all agreed that the illegally elected parliament cannot be recognized, and that contacts with the civil society and democratic forces of Belarus should be broadened.
Previously Andrei Sannikov and his wife Iryna Khalip met with Poland's foreign minister Radoslaw Sikorski.
Andrei Sannikov, coordinator of the Euroepan Belarus Dzmitry Bandarenka and editor-in-chief of charter97.org Natallia Radzina met with deputy foreign minister Katarzyna Pełczyńska-Nałęcz to discuss the Polish-Belarusian relations and the problems of relationships between countries.
Moreover, Andrei Sannikov and Natallia Radzina met with deputy foreign minister, future executive director of the European Foundation in Support of Democracy Jerzy Pomianowski and president of the International Solidarity Foundation Krzysztof Stanowski.
"I am very happy to discuss the situation in Belarus both in the Foreign Ministry and the Sejm (in other words, with the government and the parliament), and even with the future director of the newly established foundation in support of democracy. We have big expectations from the European Foundation in Support of Democracy that will become a tool of real help for the supporters of European and democratic development of Belarus.
Today in Poland the interest in Belarus remains high. Politicians and public figures are concerned that their neighbors live in a dictatorship, and they are looking for ways to impact this situation.
The issue of the political prisoners was raised during every meeting. I am glad that Minister Sikorski and his deputies, representatives of the Sejm confirmed their rigid position regarding liberation of all Belarusian political prisoners. Nevertheless, I am convinced that Poland, too, isn't doing enough to make it happen. Today, when our friends are being crippled and murdered in prisons, a conversation about some kind of a dialogue with the dictator is impossible. In Poland, there is a very good understanding that the dictatorship in Belarus hinders the development of the entire region. Poland agrees that today the democratic movement in Belarus needs the same level of support that Poland itself received in the Solidarity-times", Andrei Sannikov commented on his visit to Warsaw.