Belarus may sell S-300 systems to Syria
21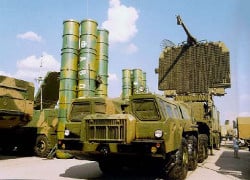 Four S-300 systems, which will be shipped to Belarus by Russia, may be re-sold to pariah countries.
This is how general Valer Fralou commented for the charter97.org web-site in the shipment of air-to-surface missile systems S-30 and the deployment of a Russian aviation base in Belarus.
"Any military forces based in Belarus increase the potential of the Belarusian army. But this is only from the military point of view. One should not forget that Belarus is still a part of the Collective Security Treaty Organization, and we have a union state with Russia", - the general noted.
He also emphasized that if one looks at the situation from the point of view of politics, then Russia is trying to increase its influence and expansion to Belarus.
"The Kremlin certainly acts in its own interests. The USA, for example, uses the territory of Poland, Bulgaria, Czech Republic for deploying its missiles. Russia does the same, only uses Belarus for this purpose and does this to counterbalance Washington. That is why it was decided to supply four additional anti-aircraft missile systems S-300.
As to the possibility of these air defense systems to Syria, then the respective agencies are following that in accordance with international agreements. But there "smart" offices, which are able of circumventing that system. Of course, this option is unlikely, but it has the right to exist", - Valer Fralou summarized.
Yesterday the Defense Minister of Russia Sergei Shoigu stated at the meeting with the Belarusian ruler that the first flight of Russian fighter planes will arrive to our country already this year. For divisions of anti-aircraft systems S-300 are already deployed in Belarus, also a radar station Volga is functioning near Baranavichy.
We would remind that Russia used to supply anti-aircraft systems S-300 to the regime of Bashar Asad. These shipments were only halted in the middle of last year. According to a media assumption, Russia may have refused from the direct sale of the systems to the Syrian dictator in order not to complicate the relations with its Western partners. However, international organizations and experts have repeatedly stated that Russian weapon may be shipped to pariah countries through Belarus.