Zmitser Dashkevich released (first photos)
82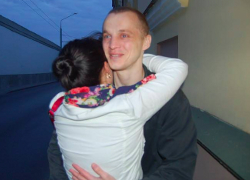 Political prisoner Zmitser Dashkevich has been released from the Hrodna prison at 6:30 a.m.
Scores of people – journalists, activists and his wife Anastasia – were waiting for him outside the prison. Zmitser Dashkevich says prison officers woke him up earlier, at 5:30, he ate his last breakfast in prison, packed his bag and left the building. Prison officers said to him as he was leaving: "There's always a place for you here, Dashkevich."
The Young Front leader stressed he didn't take the release as mercy. He thanked all people present and said he would go on his political activity.
"It's vital for a prisoner to know that there are people outside prison who support you and continue what you have been doing," Dashkevich said adding that he had received many letters.
He confirms that he will be under police supervision for the nearest six months. He cannot leave home from 20:00 to 6:00.
The Young Front leader is expected to hold a press conference in Minsk's office of the BPF Party on August 29.
On March 24, 2011, Zmitser Dashkevich was sentenced to two years in a minimum security correctional colony. He was detained on December 18, 2010, in Minsk a day before the presidential election. Eduard Lobau and the Young Front leader were accused of beating Kanstantsin Savitski and Aleh Malyshau in Yanka Bryl Street. Their arrest was a preventive measure ahead of the presidential election held next day. On August 28, 2012, Dashkevich received an additional year of imprisonment for "persistent failure to obey orders of prison officers".
Zmitser Dashkevich will be under police supervision after the release. He cannot leave home from 20:00 to 6:00. Going outside the town or abroad is forbidden without the permission of the police.