KIM factory in Vitebsk on strike
50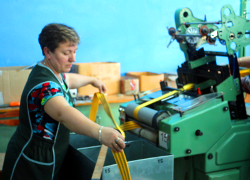 Workers of the factory's sewing shop went on strike.
The reason was back wages. Workers refused to work yesterday, but the strike may continue today, Narodnye Novosti Vitebska reports.
The shift A in the sewing shop at KIM hosiery and knitting factory suspended work for three hours on September 25. The shift B didn't begin to work. People were angry, because they received only 250,000 rubles on September 24, though wages haven't been paid for two months.
A worker says that the general director was in Russia when the strike broke out. The chief technical officer and the lawyer met with the strikers. The lawyer tried to convince workers that they violated the Belarusian labour code.
We remind that workers already went on strike on September 10 and 11 due to arrears in payment at KIM factory. Director Viktar Aksionau met with strikers trying to calm them down and appealing to the difficult situation at the factory.