Lukashenka's political tourism: Pleasure but not business
Lukashenka and his retinue spent more than a week in the UAE.
Lukashenka's fourth trip to the United Arab Emirates, which was modestly called a "working visit", appeared to be rather long.
A big Belarusian delegation stayed in the country at least from October 25 till November 2, Andrei Fiodarau on Belorusskie Novosti website.
However, it doesn't guarantee the promised breakthrough in the relations with Abu Dhabi. Relations with other Persian Gulf countries are not better.
Round number of $500 million outlined
According to official information, the Belarusian leader didn't have many working contacts. It can be noticed clearly that no concrete issues were discussed.
In particular, at a meeting with the Crown Prince of Abu Dhabi Mohammed bin Zayed bin Sultan Al Nahyan, the parties only gave instructions to choose 3-4 key projects that would allow raising the bilateral relations to a new level.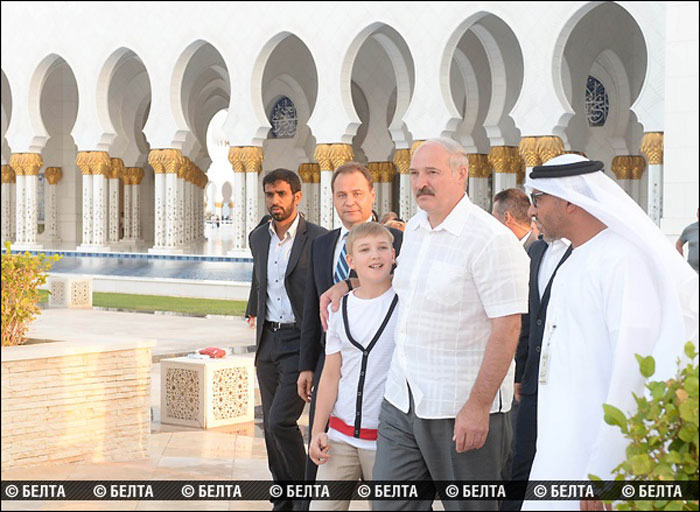 Trade between Belarus and the UAE was $49 million last year. Taking into account a turnover of $26 million in 2006, the growth, yet not as fast as it could be, is visible. Such small figures, however, do not allow talking about a stable tendency.
Nevertheless, the Belarusian party gave instructions to the government to immediately form a group of goods that the UAE needs and achieve a turnover of $500 million next year.
Such targets are set at most talks with foreign representatives, but it's hard to speak about achievements.
Old but not easy partners
It's difficult to agree with some Belarusian analysts who think Belarus looks for anybody in Arabian East able to replace its lost partnership with Venezuela. One of the reasons not to agree is that official Minsk's contacts with the Persian Gulf monarchies began much earlier its friendship with Hugo Chavez.
There have been visits to five countries of the region since 2001, but Saudi Arabia became an exception for some reasons.
Cooperation has always been explained with economic reasons: attempts to expand trade and economic ties and to look for new sources of investments and loans, as these states have huge free financial resources.
Perhaps, it's true that personal contacts are of key importance for successful cooperation in the Middle East. However, it is a necessary but not sufficient condition.
One can have the best personal relations with sheikhs, but they will hardly agree to invest in projects if they don't have guarantees they can return their money or have a high profit. Otherwise the quantity of trips to the Middle East would have transformed into quality long ago.
A special meeting was held in March 2008 after a high-level visit to the Persian Gulf countries. Aliaksandr Lukashenka harshly criticised the implementation of the reached agreements and demanded to boost trade and economic cooperation with the region.
It seems it hasn't helped. In 2012, total trade with Kuwait, the UAE, Oman and Saudi Arabia was 145 million dollar with Belarus's negative balance of more than 67 million. A year later, Kuwait was expelled from the number of partners, ans the balance reduced to -26 million, while trade was 136 million.