Russia bans import of products of 8 Belarusian plants
56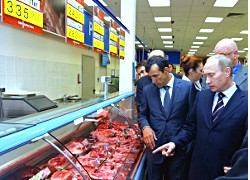 The ban takes force on November 26.
Charter97.org learnt it from Rosselkhoznadzor's press service.
"Due to serious violations, Rosselkhoznadzor took a decision to impose temporary restrictions from November 26, 2014, on the import of products of Belarusian plants to Russia, including the Skidal agricultural plant, the Vitebsk poultry plant, Servolux-Agro, Rassvet poultry plant and meatpacking plants of Vitebsk, Zhlobin, Kalinkavichy and Rahachou," a press release says.
The ban is imposed due to a high concentration of antibiotics, salmonella and E. coli bacteria in products of the above mentioned enterprises.
Rosselkhoznadzor earlier banned the import of products from nine Belarusian companies for safety reasons. The restrictions hit Inko Food, Babushkina Krynka, Belovezhskie Delikatesy companies, meat packing plants in Biaroza and Homel, the Dzerzhynsk agricultural company, the poultry processing plant in Smaliavichy and Servo Lux company.
The import of products of the meat packing plant in Slutsk was also banned due to the detection of ASF genome in sausages.
Belarus was also urged to stop transiting products through Russia.