Websites equated to mass media in Belarus
91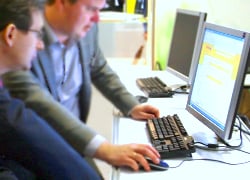 The authorities can completely block any website.
MPs passed amendments to the law on the mass events in two readings.
The minister of information Lilia Ananich noted that the Belarusian information space was a part of the global one. "Every citizen is guaranteed the right to freedom of opinion and expression," she said.
Ananich stressed that the law on the mass media required amendments "to exercise the right to receive true information, provide national security and defend the state's interests to the fullest extent possible" in view of global geopolitical changes and the economic situation, BelaPAN reports.
Ananich noted that Belarus had more than 5 million Internet users. According to her, not all information they receive meets the interests of society and the state.
The minister thinks that websites that spread information are de facto the mass media. The amendments extend the law on the media to information resources and their components, but do not require the state registration as media outlets.
It will be prohibited for websites to "publish the information that promotes extremist activity or calls to war and other information that damages the state's interests".
A website must publish a retraction of the earlier information or delete it on the request of the appropriate state body. The state body has the right to block the website for the refusal to fulfill the demand.
The bill bans a foreign state or a foreign citizen to own more than 20% of shares in the company that performs publishing or editorial activities.
Ananich noted that the amendments to the mass media law would allow creating the "effective information protection from the external destructive influence".
The bill proposes to create the state register of information distributors. A distributor can be removed from the register after two or more written warnings that means a ban on its further work.
Journalists in the parliament couldn't read even the summary of the bill. The text of the bill is not available on the National Legal Internet Portal.