Belarus regained customs control on the border with the Russian Federation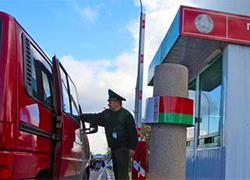 Border vehicle checkpoints, which were abolished in connection with the establishment of the Customs Union, have resumed their work.
The Federal Customs Service of Russia (FCSR) shared the information, TASS says.
"The FCS confirms that the Belarusian customs officers have resumed their work on the border with the Russian Federation. No customs control is being exercised over from our side", the representative of the FCS press service Elena Grach informed.
Earlier it was reported that the Belarusian authorities have launched an all-out trucks checking crossing the Russian-Belarusian border in both directions. According to reports on the website of the State Customs Committee of the Republic of Belarus (SCC), not only trucks, but cars are being checked. For example, the Belarusian customs officers said that they had undeclared jewelry seized from the citizen of Kazakhstan, who was driving Porshe Cayenne SUV, RBC reports.
The checks have started in early December. On December 6 the SCC reported that within 5 days seven attempts of exporting goods of a sanction group to the Russian Federation had been prevented. "At the same time within 5-day period Russia have suspended 86 cargo vehicles with goods with a more than 1, 000 tons of total weight", it is reported. In addition, the SCC reported on the suppression of 20 tons of imported bananas and the seizure of 400 liters of alcohol, 490 packs of cigarettes produced in Russia.