Frigate Hetman Sahaydachniy forces Russian ships to leave Ukrainian waters
43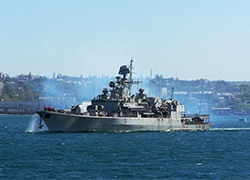 Frigate Hetman Sahaydachniy has forced Russian military ships to leave the territorial waters of Ukraine.
The flagship of the Ukrainian navy, frigate Hetman Sahaydachniy, left Odessa for a mission in the Ukrainian territorial waters and forced the Russian ships to leave the territorial waters of Urkaine.
The information was received from the Navy Command of Ukraine, obozrevatel.com reports.
The frigate left Odessa on March 14 and came to a district in the Black Sea. It found four military ships of the Russian Black Sea Fleet and two helicopters Mi-35. The Russians tried to cross the sea Ukrainian border.
The frigate's commander, captain Roman Pyatnitskiy, entered into negotiations with the offenders and ordered them to leave the territorial waters of Ukraine, but the Russian ships continued moving in the direction of Ukraine.
The general quarters signal was announced at the Ukrainian frigate. It came closer to the Russian vessels, and the latter had to return to the neutral waters.
Sahaydachniy didn't use weapons. The frigate continues patrolling Ukraine's sea border.
Flagship of the Ukrainian Navy frigate Hetman Sahaydachniy reaffirmed on March 2 it remained loyal to Ukraine.
Photo: produced.in.ua