To Save Maxim Vinyarski
30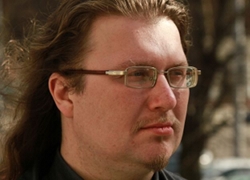 A civil campaign "European Belarus" has made a statement.
"Today Lukashenka's court has once again sentenced a coordinator of "European Belarus" Maxim Vinyarski to 12 days of arrest. Maxim was detained by policemen as he allegedly looks like a person who is on the wanted list, and he was accused for "insubordination to policemen."
This verdict has become another outrageous evidence of unlawful acts committed by the dictatorship. A real hunting with Maxim as a prey took place. At the moment the activist of "European Belarus" spends less time at the large between his stays behind the bars, then in prison.
Maxim himself believes that his detention is related to the authorities' desire to prevent his participation in the Chernobyl Way (Charnobylski Shliakh) march, a traditional rally of the opposition, planned for April 26. There is a realistic threat that the authorities would not confine themselves to using this punishment and find a way to prolong his imprisonment, to prevent his presence in Minsk during the World Hockey Championship. That is why he has gone on a dry hunger strike.
The life of our friend is in danger. Recently he has spent more than 300 days in prison, and that has seriously influenced his state of health.
We demand immediate release of Maxim Vinyarski, punishment for all responsible for his illegal arrest and brining the practice of preventive arrests in the run-up to the Ice Hockey World Championship to the end."