Zmitser Dashkevich gets 25 days in custody
31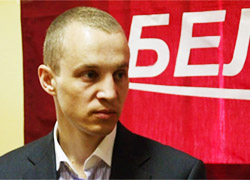 The politician will remain behind bars almost till the end of the Ice Hockey World Championship in Minsk.
The former political prisoner was detained near his home last evening. He was accused of failure to obey police officers. Zmitser Dashkevich said at a trial in the Pershamaiski district court it was a lie, Radio Svaboda reports.
"I don't want to comment on this absurd. Maybe it can be explained with Young Front activity ahead of the Chernobyl Way rally and the Ice Hockey World Championship," the politician said after judge Yury Harbatouski had read his decision.
Zmitser Dashkevich was released on August 28, 2013, after almost three years in prison No. 1 in Hrodna. He was arrested on December 18, 2010, a day before the presidential election. He was sentenced for "malicious hooliganism" and then for "persistent failure to obey the prison rules".
Zmitser Dashkevich is under preventive supervision, which term expires on May 28.