Lukashenka's "guest" Bakiyev sentenced to 25 years in prison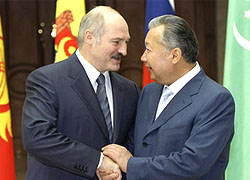 The verdict was delivered in the home country of the fugitive politician, in Kyrgyzstan.
Former president of Kyrgyzstan Kurmanbek Bakiyev and his relatives were tried in absentia and sentenced to long prison terms in the case of an attempted murder of foreign businessman Sean Daley, Interfax learnt from the Supreme Court of Kyrgyzstan.
"The Pervomayskiy district court sentenced Bakiyev to a 25-year term in the medium security correctional facility and confiscation of property," the news agency learnt.
According to the Supreme Court, Zhanybek Bakiyev, brother of the ex-president and former head of the State Security Service, was sentenced in absentia to life imprisonment in the special security correctional facility and confiscation of property.
"The sons of the former president – Marat Bakiyev and Maksim Bakiyev – were given 20 years in prison and a life sentence with confiscation of property respectively.
The verdict was delivered over a criminal case against the ex-president and his relatives, who were accused of organising the murder of Sean Daley, a representative of Oxus company. The company planned to develop Jerooy gold deposit in the Talas region. Jerooy was estimated to hold up to 80 tonnes of gold.
Former president of Kyrgyzstan Kurmanbek Bakiyev fled the country after the revolution and settled in Belarus. It was reported by media in August that Zhanybek Bakiyev, who had headed the country's State Security Service during his brother's rule, also lives in Minsk.
In early 2013, the former president and his brother were sentenced in absentia in the case of the death of former presidential administration chief Medet Sadyrkulov, who was reported to have been killed by the authorities for his intention to take the opposition's side. Kurmanbek Bakiyev received 24 years of imprisonment and his brother got a life sentence. Bishkek officially demanded the extradition of Bakiyevs, but the request was dismissed.