Belarusian MFA urges Kyiv to negotiate with separatists
18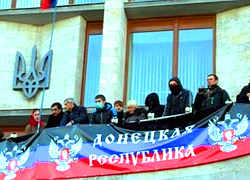 Belarus calls on all sides of the Ukrainian conflict to sit at the negotiation table without delay.
This was announced today at a briefing by a press-secretary/head of MFA's information department Dzmitry Mironchyk, BelTA reports.
"Belarus' position as to the issue of federalization in Ukraine has been long ago expressed by the head of state, and it remains unchanged. We repeatedly appealed to all the parties of the Ukrainian conflict to fully realize their responsibility for Ukraine's future and, having put ambitions aside, sit at the negotiation table without delay, - pointed out the MFA representative. – We believe that the resolution of this conflict should be based on unifying, not disengaging foundations, and it should be sought first of all in the framework of a broad nationwide dialogue, in which the interests of all the conflicting parties would be represented".
As to the upcoming elections of the president in Ukraine, Dzmitry Mironchyk emphasized that independent decision on the future development direction is an inalienable sovereign right of the Ukrainian people, while elections, in his opinion, are the best, most acceptable and democratic form of the implementation of such a right.
"We suppose that in the current situation Ukraine needs stable authorities, the legitimacy of which will be based on election results. At the same time it is important for the residents of all the country's regions to have the possibility for free expression of their will", - he added.
Representatives of Belarus will take part in the observation of the forthcoming elections in Ukraine as a nation mission and in regional organizations'' mission alike. This will help formulate their adequate assessment, Dzmitry Mironchyk believes.
Asked by journalists, at which level the contacts are now being made between Minsk and Kyiv, the ministry's representative said that they go on at all levels necessary for maintaining relations between two neighboring and friendly states.