Aleksander Kwasniewski: After Ukraine Putin will seize Belarus, Kazakhstan and Latvia
24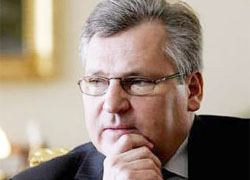 The Kremlin's goal is to revive the USSR as much as they can.
Such an opinion was voiced by Poland's former president Aleksander Kwasniewski in an interview to PAP.
"Putin is not hiding his intentions. In his statements he touched upon the subject of a "Great Russia". At the NATO summit in Bucharest in 2008 he claimed that Ukraine was an artificial state. There are also articles by Russian strategists, which say that the borders of the countries within the USSR were marked wrong and the post-Soviet borders should be changed. They claim that this is not only an issue for Ukraine, but also for Kazakhstan, certain regions of Belarus and a part of Latvia. Also remains open the issue of Moldova, Georgia and former USSR republics in Asia. Now we can observe the implementation of that doctrine. One even does not have to resort to intelligence services in order to know that Putin's goal is a maximum possible restoration of everything that was lost at the collapse of the USSR. Not necessarily by fire and blade, but with a ''chaos war". This means by political means, economic destabilization and the influence via media", - the politician believes.
We would remind that starting from 6 April Russian subversive groups and local separatists started systematic seizures of administration buildings in towns of Ukraine's eastern regions. Western media journalists reported that there were Belarusians among the commandoes.
In response Ukraine's authorities took the decision to launch an anti-terrorism operation in the country's eastern regions. Troops and equipment were redeployed to Donbas. On 24 April Ukrainian army started the liberation of Slavyansk.
On 29 April separatists seized key administrative buildings in Luhansk – the most eastern regional center of Ukraine. Firearms were used during the storm of the building. The occupants control the regional administration, prosecutor's office, Ukraine Security Service, Ministry of Interior and the city's TV and radio center.
Today at 4 a.m. local time law enforcers started taking over the roadblocks around Slavyansk. The terrorists, who have captured the town, report that Ukrainian troops have resumed the anti-terrorism operation. At the moment it is known that Ukrainian army, carrying out an operation to liberate Slavyansk, suffered first loses – two helicopters were shot down.