Mass arrests of opposition activists go on
5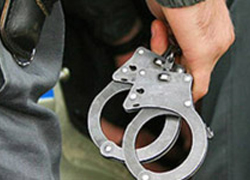 The police arrest opposition activists ahead of the Ice Hockey World Championship in Minsk.
Activists Anastasia Kukhto and Aliaksandr Arlou, who had been detained last night at home, were tried in Minsk's Frunzenski district court today. Judge Yulia Zakreuskaya sentenced Anastasia Kukhto to 17 days in custody. Judge Liudmila Lappo gave 20 days in custody to Aliaksandr Arlou, Viasna human rights centre reports.
The case of Young Front activist Stanislau Rachkel was heard in the Kastrychnitski district court in Hrodna on May 8. He was detained on April 25 and charged with "disorderly conduct". The activist received 10 days in custody.
Minsk's Zavadski district court sentenced activist Uladzimir Zapasau to 15 days in custody. Details of the detention are unknown.
Young Front activist from Minsk Zmitser Yushkevich was arrested in his mother's flat in Slonim on May 8. The activist left the capital for a period of the ice hockey championship.
National bolshevik activist Dzmitry Paliyenka was detained by the police in Minsk.
More than 20 opposition activists have been detained by the police in the last two weeks. Human rights activists explain the arrests by the ice hockey world championship in Minsk.