Arkhipau punished by 6 years' term in colony, Kanaplyou fined
37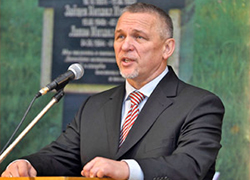 The Military collegium of the Supreme Court has pronounced the sentences to the officials.
The former deputy Prosecutor General Alyaksandr Arkhipau (Alexander Arkhipov) has been sentenced to 6 years in a colony with a reinforced regime and confiscation of property, deprived of the rank of "Counsellor of Justice of the 3rd degree". He was handcuffed in the court room. Arkhipau came to the court with a pack of things prepared for prison, Radio Svaboda informs.
The former speaker of the "chamber of representatives" Uladzimir Kanaplyou, head of the Handball Federation (at the picture) was sentenced to a fine of 900 basic units (Br135 millions). In the court he stated that he admits guilt. The court compelled Kanaplyou to pay the money within a month.
In November 2013 a criminal case on charges related to Part 3 of Article 424 (abuse of power) was opened against Arkhipau, a former deputy Prosecutor General. On November 4, 2013, the prosecutor general signed an order to dismiss him from prosecution agencies for committing offences that discredit the status of a prosecutor and are incompatible with the work in prosecution agencies.
Lukashenka later met with prosecutor general Aliaksandr Kaniuk and instructed to keep under control the situation of the dismissed deputy prosecutor general.
"It begins to worry me after we had to decline the services of deputy Prosecutor General Arkhipau. Maybe it's true that certain persons do something wrong in law-enforcement bodies. It is unacceptable that we have to deny trust to the deputy prosecutor general and have to fire him. It is not normal," Lukashenka said.
"His buddies may have involved him into the fraud. A man was killed, a driver was drunk. It doesn't matter what relations they had, but a human being was killed. Imagine how his family reacts to this," he said.
"They used their power to hush up the case," Lukashenka continued. "What will people and family think? They will think there's no authority in the county. Where is justice? So, please control what measures are being taken," he ordered.
The second defendant in the case opened against the former deputy Prosecutor General of Belarus Alyaksandr Arkhipau, is the former speaker of the "chamber of representatives" Uladzimir Kanaplyou. He was charged under Part 1 of Article 406 of the Criminal Code of Belarus (failure to report a crime).