Mustafa Dzhemilev wins Solidarity award
1
The leader of the Crimean Tatars has received the annual Lech Walesa Solidarity award.
In the ceremony that took place in Warsaw took part the presidents of Ukraine and Lithuania Petro Poroshenko and Dalia Grybauskaite, the US Secretary of State John Kerry, the head of Swedish MFA Carl Bildt, as well as the head of Polish MFA Radoslaw Sikorski. Mustafa Dzhemilev received the award from the Polish president Bronislaw Komorowski in the presence of the former Poland's president, Nobel Prize winner Lech Walesa.
Representatives of our country also attended the ceremony – the first head of independent Belarus Stanislau Shushkievich and the charter97.org web-site's chief editor Natalia Radzina.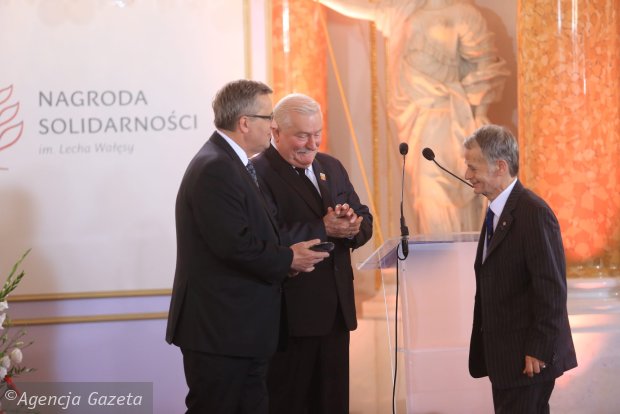 Before awarding the prize the Polish president pointed out Dzhemilev's input into the struggle for the rights of the Crimean Tatars in the Soviet times and nowadays. "Ukraine needs our Solidarity, and we want to show it by awarding the prize to the loyal son of the Tatar people and independent Ukraine", - Bronislaw Komorowski stated.
The award consists of three parts: 250 thousand euros are intended to the laureate himself, 700 thousand euros will be invested in the programs picked by the winner to be implemented by Poland, and 50 thousand euro is intended to arranging the winner's trip to Poland.
The jury that picked Dzhemilev the winner consisted of Lech Walesa, the EU's High Representative of the Union for Foreign Affairs and Security Policy Catherine Ashton and the leader of Burma opposition Aung San Suu Kyi. "Dzhemilev has authentic merit from Soviet times, and he stand for Ukraine's unity today. Together with his people he proved that democracy is possible in a society with Muslim traditions", - the head of the Polish MFA Radoslaw Sikorski explained their decision.
In the course of the Crimean crisis Mustafa Dzhemilev spoke against the peninsula's joining Russia. The occupant authorities have banned his from entering the territory of Crimea.
Tomorrow Mustafa Dzhemilev meets the president of the USA Barack Obama, who is now on an official visit to Poland.