OSCE officially accuses Russia of occupation of Ukraine
18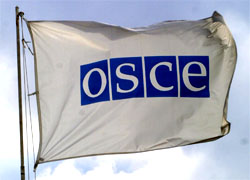 The resolution was adopted at a session of the OSCE Parliamentary Assembly.
At the session on July 1, 2014, the Parliamentary Assembly of the Organisation for Security and Co-operation in Europe (PA OSCE) voted for the draft resolution proposed by US Senator Benjamin Cardin that condemns actions of the Russian Federation in relation to Ukraine. As many as 92 Assembly members voted in favour of the resolution.
The document, in particular, condemns "the clear, gross and uncorrected violation of the Helsinki principles by the Russian Federation with respect to Ukraine, including the particularly egregious violation of that country's sovereignty and territorial integrity", RBC reports.
The amendment condemning the occupation of the territory of Ukraine was adopted during the debate.
The resolution condemns military aggression and "various forms of coercion designed to subordinate the rights inherent in Ukraine's sovereignty to the Russian Federation's own interests, to have been unprovoked, and to be based on completely unfounded premises and pretexts". The OSCE views the 16 March 2014 referendum in Crimea as an illegitimate and illegal act, and calls upon all participating states to refuse to recognize the forced annexation of Crimea by the Russian Federation and "further to support and adhere to mutually agreed and fully justified international responses to this crisis".
The OSCE calls upon Russia to end its intervention in Ukraine and to bring itself into compliance with the Helsinki principles in its relations with Ukraine and with all other participating States. An amendment calling upon Russia to desist from military overflights of the Nordic-Baltic region, immediately withdraw its military forces from the borders of the Baltic States and "cease its subversive activities within the ethnic Russian populations of Estonia, Latvia and Lithuania" was adopted.
The resolution supports the efforts and initiatives of the OSCE to respond to this crisis, and calls on all OSCE states to provide both resources and political support and to allow the OSCE to work unhindered throughout Ukraine, including Crimea. The OSCE expresses a continued willingness to provide the substantial assistance to Ukraine in these and
other matters.