Soldier of Belarusian squad Pahonia: We are going to win (Video)
52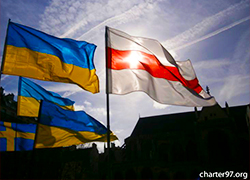 Belarusian volunteers explain why they are helping Ukrainians.
The story about Pahonia squad consisting of Belarusian volunteers was shown on Ukraine's most popular TV channel, Inter. Igor Guz, a deputy head of the Volyn regional council, posted the video on YouTube.
Belarusian volunteers say why they came to fight against Russian occupants for freedom of the neighbouring country. "Russia will go to Belarus after the defeat in Ukraine," one of them said.
Belarusians know about threats of Belarusian authorities and about possible prison terms for helping Ukraine. They do not consider themselves to be mercenaries. "It's not the money that we came here for. We are not going to die. We are going to win," a Pahonia soldier says.
The Ukrainian authorities announced the organising of the squad on July 7. More than 50 Belarusians have applied for the squad. They will join volunteer battalions Aidar, Azov and Donbas after a training course.