Russia ready to establish air base in Baranavichy
67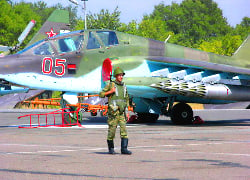 "Everything necessary is present for that," Russia's air forces inform.
Such a statement to journalists has been made by Viktor Bondarev, Commander-in-Chief of the Russian Air Force, who obtained a rank of Colonel General, ITAR-TASS informs.
"We are going to establish a base in Baranavichy (Baranovichi), we have everything necessary for that, and the only thing we are waiting for is conclusion of the intergovernmental agreement. After that we are going to start these measures in full," he said.
The chief of the Air Force specified that he was referring to deploying of Su-27 fighters.
On December 10, 2013 crews of Russian Su-27 fighters took up joint military duty.
Earlier Russian Defense Minister Sergei Shoigu during his meeting with Lukashenka said about the plans to position a Russian air base in 2015, however it was noted the air base was planned to be situated in Lida (Hrodna region).
The plans to deploy a Russian air base in Belarus caused a negative reaction in the society.